SOLD: 1964 Fender Bassman 50 Watt Head and 2×12 Speaker Cab.
Manufactured: 1964
Covering: Rough blonde Tolex
Grille: Recovered with new gold thread grille cloth.
Tubes: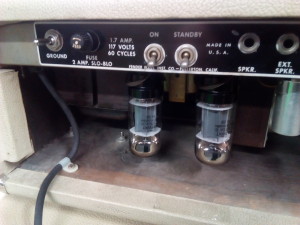 Pre-amp and PI: 4x ECC83/12AX7 Mixed Fender and one new JJ
Power amp: 2x brand new Sovtek 5881WXT
Rectifier: Original solid state diodes
Mains supply: The original mains power transformer must have been replaced because the back of the chassis specifies US voltage. It is an original 1964 Fender export model 240 Volts 125P7DX.
Output transformer: Fender 1964 125A13A.
Choke: 1964 model:125C1A
Power output: 50 Watts into 4 Ohms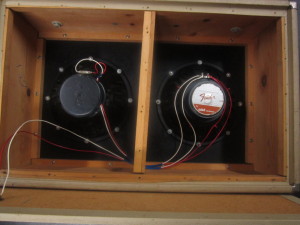 Speakers: 2x 12" 8 Ohms wired in parallel = 4 Ohms
1x Oxford 12MGX
1x Utah Electronics
All in good working order.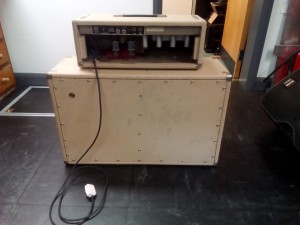 The rear amplifier cover is missing. A matching blonde Tolex replacement can be supplied if required at extra cost. The thumbscrews that lock head and speaker cab and the side props are missing. They are still available from Fender but are quite expensive for what they are. There are some of the usual marks and scuffs on the Tolex.
Repairs
The main HT smoothing capacitors have been replaced at some point but the pre-amp smoothing caps are original. They still test OK. I replaced the smoothing capacitor on the bias circuit and the screen grid power resistors. The output tubes are new as is the V3 pre-amp tube.
For more information "try outs" & viewing, please contact Dan at LaLuna Technology
Phone: 01457 597018